RTI: Giving Students the Tools to Manage Their Own Learning
It is impossible for middle and high school students to master the ambitious Common Core Standards in English Language Arts and Mathematics if they lack either the tools or motivation to take responsibility for their own learning. This workshop provides educators in secondary classrooms with the guidance, diagnostic tools, and intervention strategies to train students to act as their own learning managers.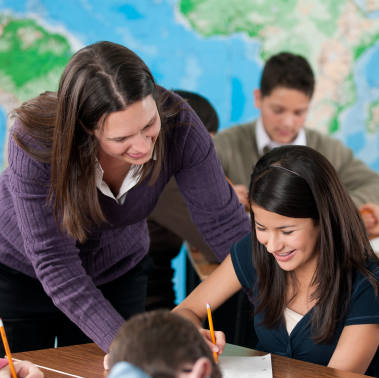 The training focuses on three areas: defining and fixing deficient student academic support skills through targeted checklists, structuring teacher-student-parent-conferences, and motivating the reluctant student:
'Academic Enabler' Checklists. Participants will receive a set of checklists that they can use immediately to identify student skills in key academic support areas necessary to master the Common Core Standards—such as study skills, organization, time management, in-class independent work, homework, and test preparation. These convenient checklists allow educators to communicate more efficiently with each other about student deficits, to develop effective intervention plans, to communicate with students and parents, and to document student progress. The workshop will also link each academic support area discussed to intervention ideas for building independent student skills.
Teacher-Student Conference Formats. The workshop will present structured formats for two situations that often require teacher-parent-student conferences: (1) the student owes late work; and (2) teacher(s) and student meet to create a student intervention plan to address academic and/or behavioral concerns. Participants will receive agendas and forms for both types of meetings designed to keep them brief and productive, while also providing documentation of discussion and meeting outcomes.
Student Motivation Strategies. There is a high correlation between poor student motivation and academic deficits. Therefore, the workshop will present teachers with a range of ideas (e.g., to lower 'response effort', to increase the reinforcing power of instruction, to create a personal connection with the student, etc.) to motivate reluctant learners.
The training will include recommendations for how participants can take ideas and resources presented at the workshop back to their schools and share them in 'turn-key' fashion with other staff members. The workshop will also link the training content to the Response to Intervention model now in place in many schools across the nation.
As a result of attending this workshop, participants will:
Use checklists to deconstruct global academic support skills such as 'study skills' into specific sub-skills for better communication, documentation, and intervention.
Structure efficient teacher-student-parent conferences to have a positive focus, clear intervention outcomes, and appropriate documentation.
Identify probable reasons why students are unmotivated and select effective strategies to motivate them.
Share resources and ideas from the training with other staff in their school or district.