Intervention Pathways: How to Manage Behaviors Effectively in Real Classrooms
Misbehavior of students is a frequent interrupter of teacher instruction. Even worse, chronic problem behaviors can act as a serious roadblock to getting students to attain the ambitious Common Core State Standards in ELA and mathematics. This training is designed for general-education and special education teachers, support staff, and administrators. It presents a series of proven strategies that any educator can use to handle a full range of challenging behaviors with both groups and individual students.
T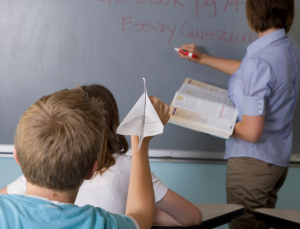 his training is structured as a series of 'intervention pathways' that show participants how to achieve the greatest benefits with the least amount of work-by employing (1) effective classwide management principles, (2) simple 'packages' for handling group behaviors, (3) strategies to gain student compliance, and (4) techniques to defuse and deescalate disruptive behaviors.All workshop content is research-based and drawn from principles of effective behavior management.
The training answers key questions about establishing positive behavior management in any classroom, including how to:
define student behavior problems clearly and specifically--and to identify likely reasons that misbehavior is occurring.
head off problem behaviors by identifying and eliminating common triggers.
use selected verbal strategies to 'nudge' student behaviors in the desired direction.
manage, defuse, and deescalate non-compliance and defiance using positive behavioral interventions that promote student engagement and responsibility.
evaluate whether a student's lack of participation in classwork is primarily due to a skill- or motivation-deficit.
help students to take responsibility for their behaviors through self-monitoring/self-evaluation, behavior contracts, and other methods.
set up a structured, in-class system of graduated consequences to manage escalating student misbehavior and head off office referrals.
use simple techniques to promote stronger student-teacher relationships.
measure improvements in student behaviors using simple tools such as Behavior Report Cards and Behavioral Checklists (using free online tools).
The ideas shared in the workshop are compatible with PBIS. Training participants will receive a copy of the Classroom Behavior Problems: Intervention Pathways Checklist, a step-by-step guide on how to efficiently identify and remediate common behavior problems. Participants will also have access to a custom web page containing links and resources shared at the workshop.
As a result of attending this workshop, participants will:
understand and apply effective basic principles of behavior management.
prevent many problem behaviors by establishing and pre-teaching behavioral expectations, identifying and eliminating classroom behavioral triggers, and using selected techniques to promote positive student-teacher connections.
set up a graduated, in-class system of consequences to handle escalating student misbehavior and be able to conduct 'reconnection conferences' to transition students back to instruction after incidents requiring classroom removal.
provide students with tools and motivation to monitor and evaluate their daily classroom behaviors in order to promote student self-directed behavioral control.